Needs Assessments
When an organization contacts us to assist them with their Health and Safety Management System, one of the first questions we ask is where they are at in terms of meeting their Health and Safety goals? We understand the challenges of meeting legislation and providing a safe working environment for employees. They know that they have to meet certain requirements, but do not necessarily have a pathway to achieve this.
The SDI Group recommends having one of our consultants conduct a needs assessment to provide the strengths and opportunity for improvement. A needs assessment is a complete review of a company's organization. Similar to an audit, the SDI Group will review all available documentation, conduct interviews with staff and conduct a thorough observation tour. However, it does not stop there, our team reviews each area using various media techniques such as pictures, video and 3-D drawings to illustrate to the client where the company's strengths lie and where recommendations for improvement are needed. After completion, a full review is discussed with the client, with a "go forward" action plan in place.
The success of this approach has led the SDI Group to become one of North Americas leading providers of Health, and Safety solutions.
System Development
The SDI Group has provided solid Health and Safety Management Systems to allow organizations to reach the level of health safety and quality excellence they want to achieve. Either through our "University" format or through our Plan-Do-Check-Act (PDCA) cycle.
The Plan–Do–Check–Act cycle (Figure 1) is a four-step model for carrying out change. Just as a circle has no end, the PDCA cycle should be repeated again and again for continuous improvement. The Plan-Do-Check-Act cycle is considered proven step in proper Health and Safety development.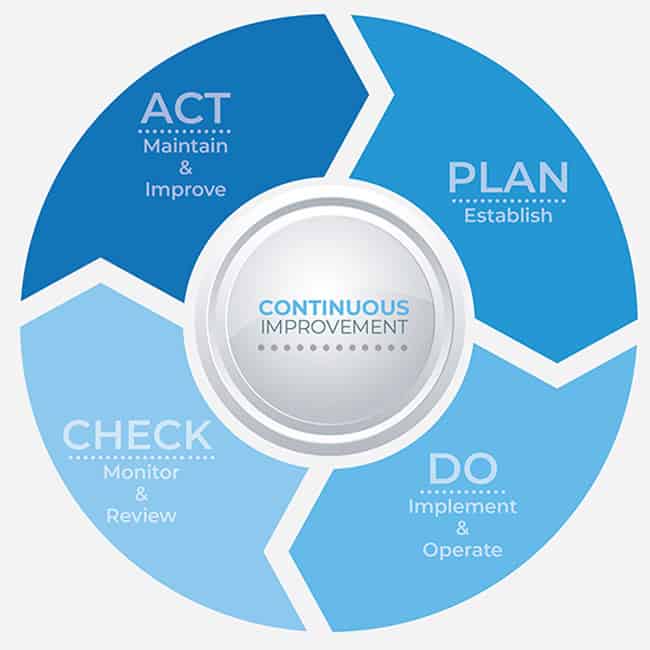 Staffing Placement
The SDI Group can provide Health and Safety Professionals to help fill your organization's needs without the need of a full-time employee. Whether it is a simple project or auditing help, the SDI Group has provided a wide variety of term placement to multi-year maintenance contract that gives the client access to all our valued business units.
Why we're that good….
The SDI Group has a long-standing partnership with NAIT in supporting their Co-op Student program in developing the next group of Health and Safety Professionals. SDI Group believes in providing our clients with the best fit for their business.